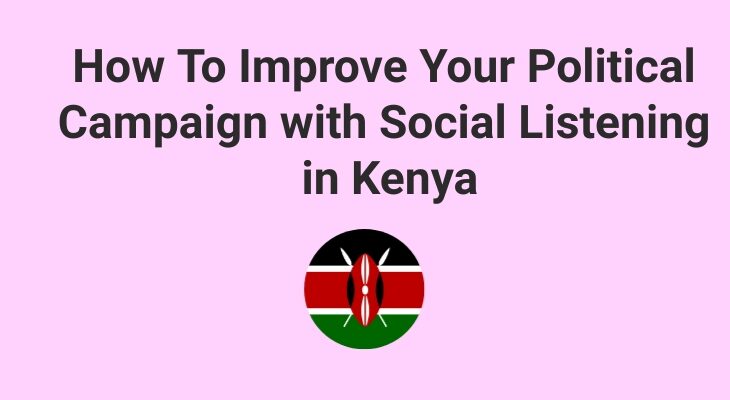 Have you ever thought of improving your political campaign with social listening?  Kenya's general elections will be held in August 2022. Political heavyweights in Kenya are pulling all their strings for the prize. Of all campaign strategies, social media is becoming hotter than ever. Politicians, political aspirants, and chief campaigners are massively investing in social media to siphon and win the hearts of voters.
Amidst all these, you need to know what people are saying about you as politician or aspirant on social media platforms. This is where social listening comes in. It is crucial because it paints a real picture of what is happening online and what voters are saying about you.
In this article, we give you a simple guide on how to improve your political campaign with social media listening in Kenya.
What is social listening?
Social listening is monitoring your social media channels for any customer feedback and direct mentions of your brand or discussions regarding specific keywords, hashtags, topics, competitors, or industries, to gain insights and act on those opportunities.
If you are a social media manager or a political campaign manager, you may want to gather all the conversations and mentions about a politician online in Kenya.
Although you may use search buttons on Twitter, Facebook, Instagram or search engines, you need a tool that provides deeper analysis. A social media monitoring like Brand Moran will provide you with that. It can also send you real-time alerts of the politician mentions online that you have tracked.
In short, this tool will help you listen and monitor names, keywords, hashtags and provide you with a detailed analytics dashboard that will improve your social media political strategy.
Also Read: 5 Important Social Listening Metrics & KPIs for Businesses
How Improve Your Political Campaign with social media Listening
Alright, let's get started and see how you can improve your political campaign with social media listening in Kenya. What you need:
Social media listening tool
Mentions and keywords to track which can be politicians exact name or nickname
Track you're the Public Perception of your Candidature
People won't shy off to mention something about you on social media. It is a platform where people quickly post their genuine feelings and opinions about your candidature. Usually, such posts create threads, and people will have varied opinions about you.
The public often knows how to spot bad leaders, and you don't want to fall into that category. If you tap into the voters' online sentiments, you can easily get their perception of your candidature.
When you use our social listening platform, Brand Moran, you will get sentiments analysis of your mentions online. Through the gathered mentions and conversations on social media, blogs and local dailies, you can tell if the sentiments are positive, negative, or neutral.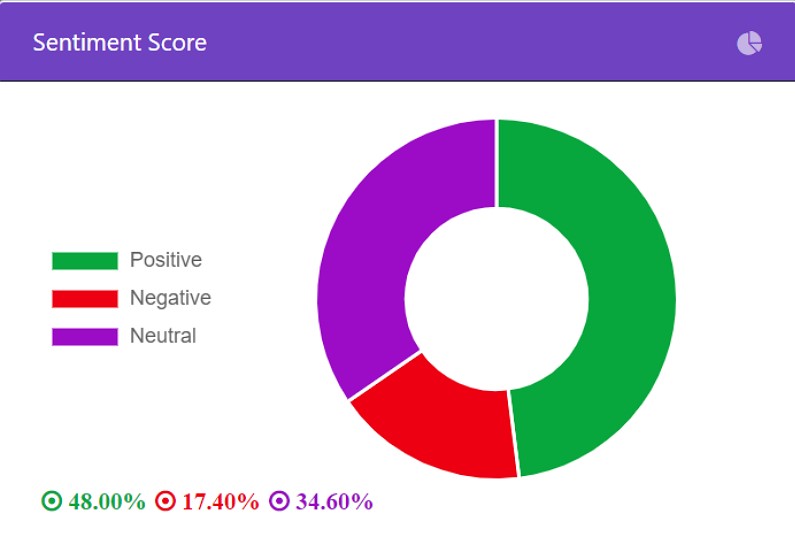 The good thing with the public is that they pinpoint your areas of weaknesses and strength in their arguments. Therefore, be keen to highlight them when you go through their social media opinions.
Keep Track of Political Campaign Data Analytics
The primary role of campaigns is to popularize aspirants for respective elective seats. Now, the winner is decided by the majority of votes scooped. Before voters cast their vote, it is normal to hear about opinion polls from public opinion specialists. Such information is crucial for politicians and campaigners because it is roughly a measure of their efforts. However, social media listening can furnish you with reliable opinion polls.
Using a good analytic tool for media monitoring politics in Kenya, you will get sentiment analysis, location insights of your fans online, gender, opinions and competitor analysis. These tools curate and analyze social media responses about the preference of candidates. The reports are then generated as graphs or charts.
Moreover, you can export data as a PDF or Excel for further analysis. The good thing with these social analytic campaign tools is that you get timely updates of the political campaign data.
Track your Competitor's Performances
It is not enough to track your performance alone. After all, you are in a race with several other aspirants. You need to identify the competitors that are giving you fierce competition. From here, you can dig into their strategies and compare them with yours. Check where you are underperforming and fine-tune to keep the right momentum.
Again, another invaluable piece of information about your competitor is their attacks. Often, your opponents will attack you to put you in bad blood with the public. However, not every attack goes well with the public. Sometimes the attacks backfire, and their popularity dwindles. With Brand Moran, you can monitor your political competitor online efforts so that you can compare and gauge your efforts.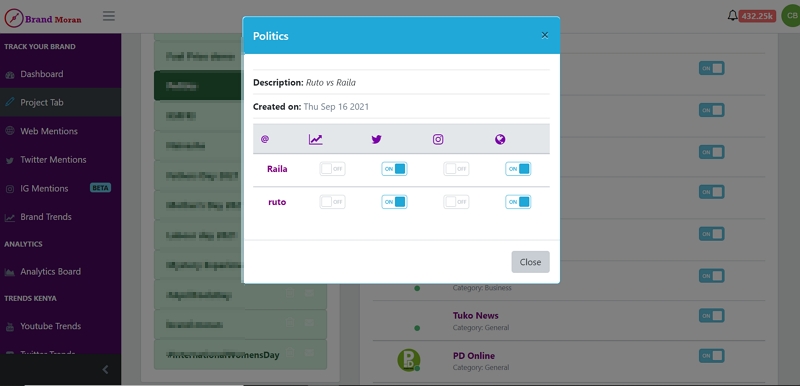 Track Political Campaign News
Now that you have immersed yourself in politics, you need to be updated on the news hitting the political campaign headlines. While you want to be informed about any relevant campaign developments, be on the watch to clear any fake news regarding you.
Propagandists and architects of fake news use the media and other platforms to spread fake news about competitors. They have been there throughout the history of Kenya's elections. If you are not timely updated, the fake news can do much damage to your political pursuit. There are many ways to counter fake news.
You can caption a shouting "FAKE NEWS" alongside the news and post it for viewers. Also, keep monitoring the media to easily detect fake news and act before the damage is driven deep. Brand Moran can monitor social media, top local dailies and over 100 Kenyan blogs and websites.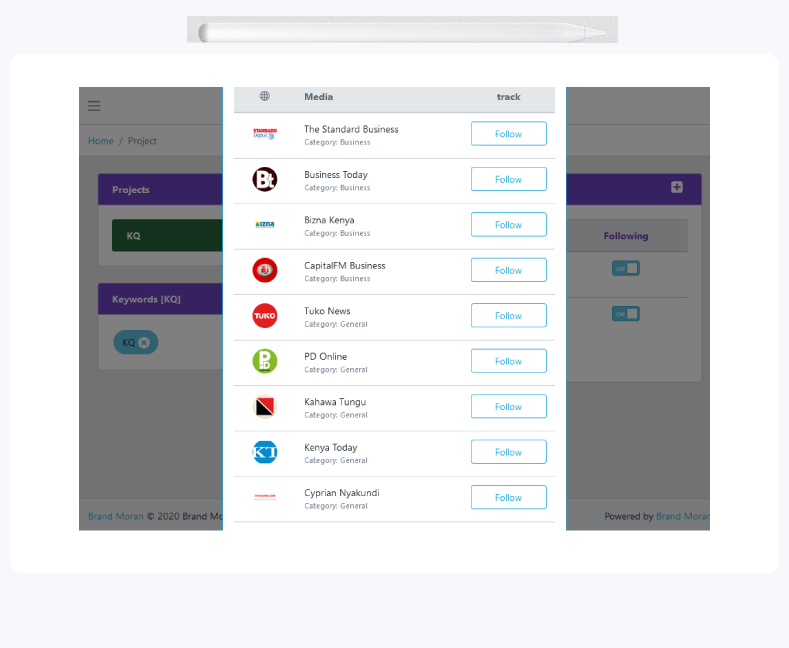 Get Social Media Alerts
Social media listening is ineffective if you don't get information on time. Time can make or break your popularity. Remember, after the information hits your desk, you decide on the best course of action. The best way to stay on track is to have social media alert services.
Fortunately, the media monitoring tools provide social media alert options. You can easily set and customize political campaigns alerts via SMS. This makes it easy to get political campaign news while still hot. Again, if there is any fake news circulating, you have the upper hand to counter them on time.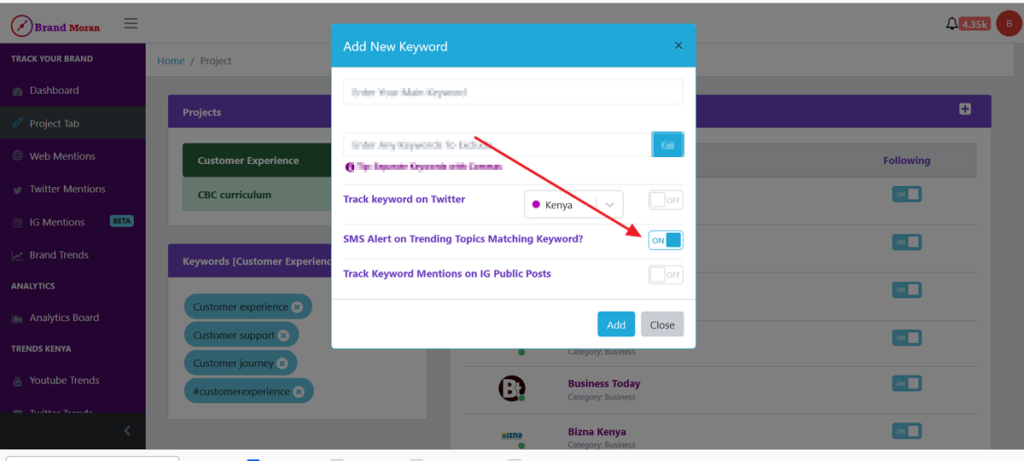 Identify Influencers
Influencers can help amplify your political message and manifesto on Twitter, Instagram, Facebook, or other social media platforms. Also, working with political influencers in Kenya will enable you to influence voters online and manipulate them to your advantage. Identifying the right influencers might be an uphill task for some politicians.
However, if you do social listening of your mentions with Brand Moran, you will get an in-depth analysis of Twitter users who mention you a lot. From there, you can approach them and see if they work with you as your political campaign influencers.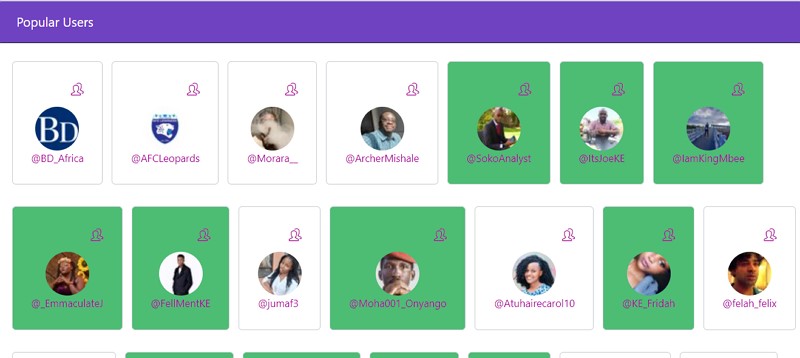 Takeaways: Why use Brand Moran to Improve your Political Campaigns
Tracks hashtags, mentions, keywords and provide real-time alerts via SMS
Provides location insights of where your online mentions are coming from across Kenya
Identifies popular users and tagged entities
It provides you with popular keywords and hashtags around your mentions
It provides you with sentiment analysis
Monitor over 100 Kenyan blogs, websites and local dailies
The Wrap Up
If you are serious about improving your political campaign, social listening should top your list. The lion's share of voters, especially the youth, are active on social media. By taking advantage of social listening, you will understand your strength and tremendously improve your campaign strategies. Serious political aspirants and chief campaigners are reaping the benefits of social listening. Time is fast ticking.
Don't be left behind. Stay ahead of other political aspirants, politicians and social media managers by using Brand Moran to monitor your political campaign efforts.
Well, email us info@brandmoran.com  or call 0727501977, and we will guide you on how to use Brand Moran to improve your social media campaigns.