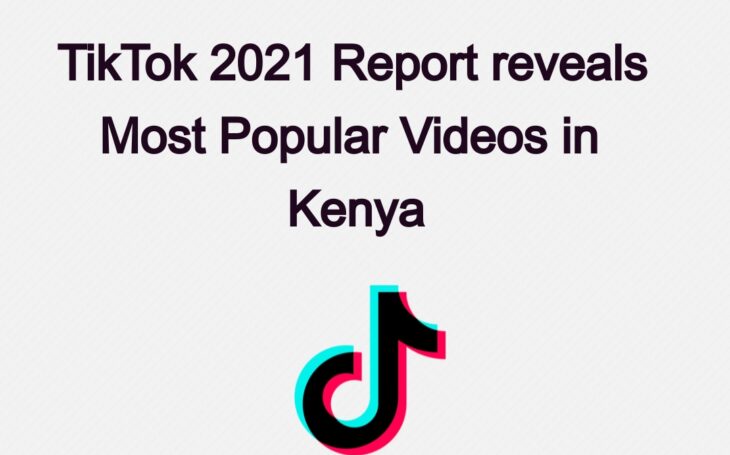 TikTok has unveiled an end of year report of the most popular videos and content creators in Kenya in 2021. The report celebrates creativity, trends, creators and moments, powered by TikTok awesome community as shared on their newsroom post.
According to the TikTok report 2021, 1 billion people used the platform to get entertained, find and share their joy with others, and learn new things. The African community was part of the 1 billion users who turned to the platform to discover new ways to express creativity, champion teams, discover new music trends, recipes and celebrate African culture across the continent.
"It's been incredible to see how our African community has continued to grow and support one another this year on the platform. We've seen trends such as the recent Love Nwantiti spread globally across For You feeds. We're humbled to see how much joy our community has brought us this year, and we're excited to experience more incredible moments as we continue this journey together," said Boniswa Sidwaba, TikTok Content Operations Manager, Africa.
TikTok 2021 Report Kenya

What are some TikTok Trends 2021 in Kenya?
TikTok  report 2021 celebrates trends, moments, and movements that made 2021 a year on TikTok that was one-of-a-kind in different categories as follows:
For Your Feeds: Trending Tiktok videos in Kenya
For your feeds are trending videos across different categories, including comedy, nostalgia, animals, and family videos. Here are videos that made up some of this year's memorable moments:
Powered By Joy: Videos That Brought So Much Joy This Year
This category highlights the popular content categories that delighted the TikTok community. Head to TikTok and take in the good vibes from:
The Playlist: Community's favourite songs
This is a list of trending songs on Kenya's TikTok community in 2021. They include:
Breakthrough Stars: Trending Tiktok  Content Creators
TikTok creators who broke out and hit new heights in 2021:
Only on TikTok: Most Creative videos
These are TikTok trends made possible using TikTok tools and cool effects in 2021:
TikTok Times – @denniskarari
Big Belly – @sialoqueen
Voice of Change
TikTok is not just for fun and dances but also a platform to create a positive impact in the community. One of the Kenyan TikTok videos that made it to the list on the voice for change category is "Let's change our money habits" by @moneygossip MoneyClinic- Amos Ngahu
For the Score
Local sports content on TikTok that brought people together in 2021
High Jump! – @yessjamal
National Team Training – @collinsinjera
Biggest Little Communities
A notable trend on TikTok was #FoodTok trends and on that category, The Roaming Chef, Dennis Ombachi and @haanoocadee made it to the list of recipes and food hacks TikTok creators
"Foodies around the world continued to find a home on TikTok this year. In Africa, we've seen proudly local cuisine come alive on the platform through hashtags such as #MzansiFoodie, #FoodiesKenya, #RepYourHeritage " TikTok
How did TikTok influence the music industry?
Moreover, TikTok is Changing the Music Industry in Kenya. It is becoming a platform to discover new and old songs and artists.  Artists are using TikTok to promote their songs through dance challenges. We have seen artists like Nameless, Wahu, Bien, Nviiri, Bensoul, Nadia Mukami just to mention a few, use the platform.
When they release a new song, they post a section of the song on TikTok and ask fans to join the challenge. In return, users will post the videos on their social media platforms, causing a buzz and eventually leading to a rise in song views on music streaming sites.
Bottom Line
The rise and usage of TikTok in Kenya are on the rise. More content creators are joining the likes of Kenya's TikTok Queen Azziad Nasenya.  We have seen TikTok stars like Vick Brandon and Just Totally Random make it to the list of breakthrough stars. There is much potential to be tapped into TikTok to promote our culture, showcase creativity and market products.